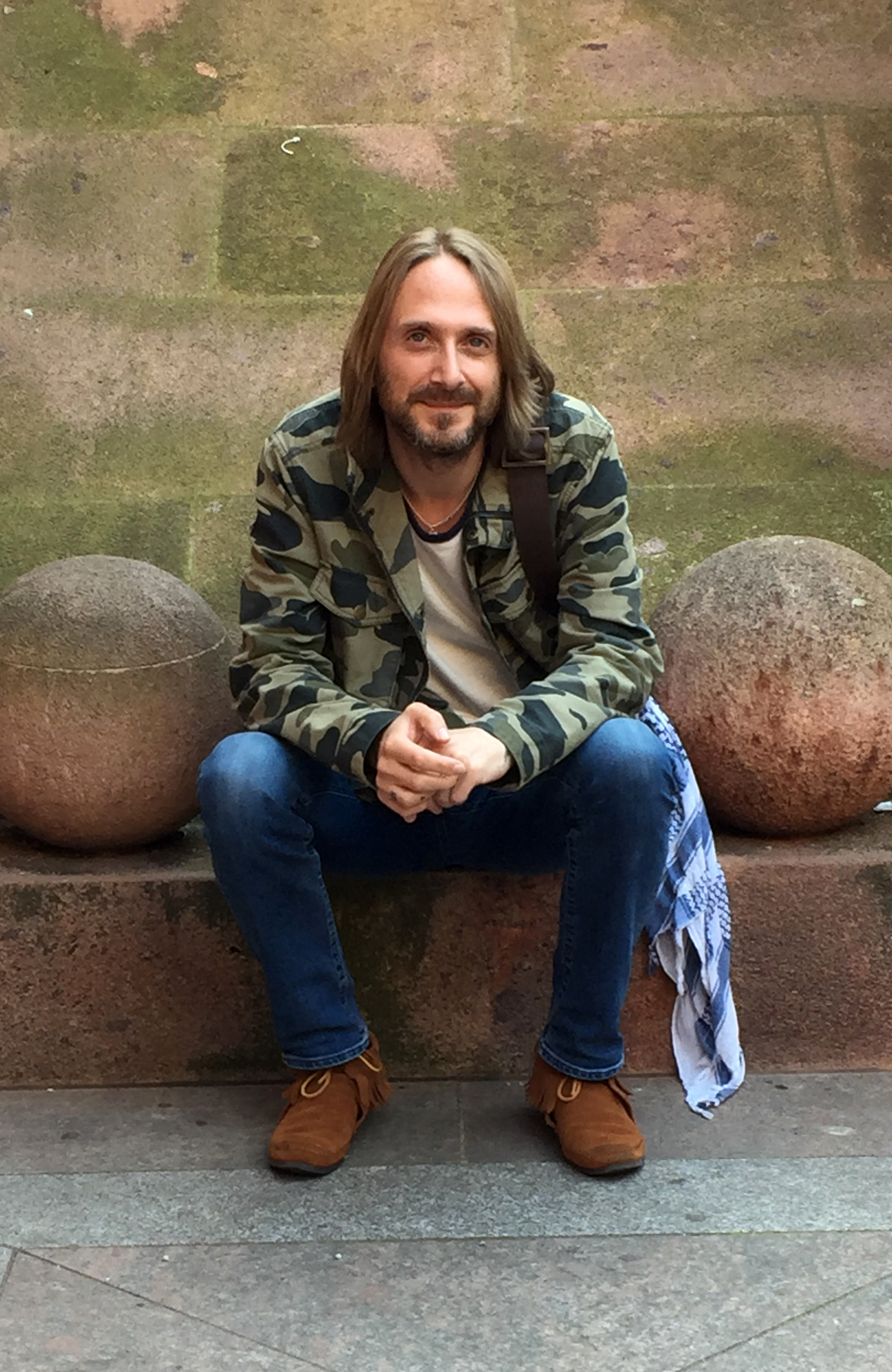 All of my life I have been employed in making, writing about, and talking about the things I love the most (words and pictures), often in collaboration with the most interesting people I know (art and design students).


I was born in Hitchin, southern England, in 1972, and educated first at Kingshott School and then Hitchin Boys' School. On leaving school I took the free Foundation Art & Design course at Shephalbury College in Stevenage — a world unto itself, and one where outstanding teacher-practitioners taught us how to educate ourselves and each other. The experience entirely informed the way that I would work, learn, and teach ever after.
Three years later, in 1994, I graduated from Cambridge School of Art with a degree in Graphic Arts and Illustration. From there I spent the first part of my career designing some of the UK's earliest commercial websites, as well as print projects for clients including The Royal Albert Hall and Virgin Publishing.
In 2000 I was invited back to Cambridge School of Art to speak to students about my experiences as a young designer, and teaching has been the cornerstone of my practice ever since. I have worked with students at the University of Bedfordshire, the University of Northampton, Milan's Accademia di Comunicazione, Ankara's Baskent University, and Buenos Aires' Escuela de Artes Visuales, as well as helping to develop D&AD's Student Awards briefs and serving on its jury.
I am now back teaching full-time at Cambridge School of Art, my spiritual home. I continue to write and to make graphic design in parallel with teaching commitments. In the past I've worked with Frank PR, Saatchi & Saatchi, The London Community Foundation, The Henry Moore Foundation, Hatfield House, Atelier Xavier Veilhan, The NUS, the V&A, and the UK Film Council; and, most recently and extensively, The Public Domain Review, where I manage the design requirements of the PDR Press as associate editor.
Since 2010 my interests have turned towards works of the imagination. This led to an MA in Applied Imagination at Central St. Martins in 2011. Before I arrived I deleted all of the work on my website so that I could begin again, with a focus on designing for ideas rather than products; all the work you see here was made from that point onwards.

Currently

Graphic designer, writer, and associate editor at The Public Domain Review. Teaching graphic design at Cambridge School of Art, collaborating with art and design students worldwide. Researching imagined worlds in text and image.


Qualifications

Postgraduate Certificate in Higher Education, ARU, UK
MA Applied Imagination in the Creative Industries, Central Saint Martins, UAL, UK
BA (Hons) Graphic Arts and Illustration, Anglia Polytechnic University, UK
Foundation Diploma in Art and Design, North Herts College, UK


Memberships and editorial boards

Fellow of the Higher Education Academy
Associate Editor, PDR Press


Teaching and Workshops

Cambridge School of Art, ARU, UK, 2000-present
Escuela de Artes Visuales, Bahia Blanca, Buenos Aires, ARG, 2017
University of Northampton, UK, 2013-14
Accademia Di Communicazione, Milan, ITA, 2008, 09, 10
Baskent University, Ankara, TUR, 2006
University of Bedfordshire, Luton, UK, 2004-2007

Publications

At the Flea Market, self-published, 2019 (Writer and designer)
Lucian's Dialogues of the Gods, PDR Press, 2016 (Editor and designer)
The Public Domain Review: Selected Essays Volumes I/II/III/IV/V, PDR Press, 2014/15/16/17/18 (Contributing writer, associate editor, designer)
Handmade Design, Chirps & Mews, 2014 (Contributing designer)
Plant Graphics, Sandu Cultural Media, 2013 (Contributing designer)
Sensory Design, Sandu Cultural Media, 2013 (Contributing designer)
Creating Great Graphic Design to a Budget, Rotovision, 2010 (Contributing designer)
Graphics Alive 2, Victionary, 2009 (Contributing designer)
Los Logos 4, Die Gestalten Verlag, 2008 (Contributing designer)
Fully Booked, Die Gestalten Verlag, 2008 (Contributing designer)
Kelvin, Die Gestalten Verlag, 2007 (Contributing designer)
Spark: Inspirational Graphic Design, PageOne, 2007 (Contributing designer)
Graphic Design School, Thames & Hudson, 2006 (Contributing writer, designer)


Presentations and conferences

The Spring Sessions (2014) Amman, JOR. Imagined Worlds in Text and Image (residency).
Type and Materiality (2010) Cambridge, UK. Polly Gleason and the Typography of Amity (symposium presentation).


Exhibitions

Continuum: Graphic Design Research, Ruskin Gallery, Cambridge, UK, 2017 (group show)
Letchworth: A Vision of Utopia, Letchworth Garden City, UK, 2014 (group show)
Q., Lethaby Gallery, London, UK, 2013 (group show)
2 to the Power of 10, Orange Dot Gallery, London, UK, 2011 (group show)
Anti-Design Festival, London, UK, 2010 (group show)